Independent Technical Reports for IPO Mining Companies [Coal Asia Vol. 23]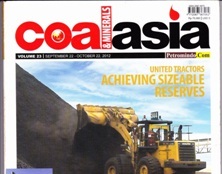 Independent Technical Reports for IPO Mining Companies

By Ian Wollff
The author is an expatriate principal geologist of about 28 years experience in the Indonesian exploration & mining industry, and is employed by an international consultant company.
Over the past few years a number of mining companies have listed on the Indonesian Stock Exchange (IDX) to raise funds and in doing so have raised their profile, and that of the IDX.
I Putu Gede Ary Suta's (Suta) book on Foundations of our Capital Market is a wonderful insight to the development of the Indonesian Stock Exchange as one of the nations diversification of financial instruments that underlies the present fiscal strength of the country. From the preference in his book, Suta recognizes that maturing of the IDX is a necessary and ongoing activity. He devotes one section to the exploration and mining industry as participants of the IDX, wherein he reaffirms the special nature of risk associated with development of resources, and the need for disclosure. Regarding Initial Public Offerings (IPO's) he notes that "full legal responsibility for disclosure lies with the issuer and underwriter". The prospectus must also contain relevant evaluations by independent mining engineers regarding the natural resources to be recovered. Once such shares are issued, then there is a legal requirement for prompt disclosure of material events (within 48 hr) and gives some examples, including "if directors know that profits will be much less than last year, but are not sure of the exact figure, they should disclose this general information".
The IDX regulations (Badan Pengawas Pasar Modal & Lembaga Keuangan RI) on preparing a Prospectus (Section III.3.3) refers to a number of requirements that emphasize the responsibility lies with the issuer & underwriters. The Indonesian Fact Book (available on line from the IDX web site) heading "Going Public and Listing on the IDX" list requires supporting documents to include "Mine Reserve Appraisal Company, to value the resources indicated at concession area (for mining company)".
The prospectus from several recent mining companies IPO's provide an insight into the nature of the various mine reserve appraisal reports. They all provide some estimate of the quantity and quality of coal / mineral plus production cost and market value. They all provide notes on project risk, wherein sale price is generally the greatest risk factor. However there are significant differences in the quality & quantity of information given.
PT. SMRU Investama Tbk IPO (Manganese) was issued in October 2011 with independent report [ Kata Pengantar ] dated 5 April 2011 by LAPI ITB exploration. This bahasa Indonesia report refers to SNI (no sub code given) as the code of quality criteria. The report is signed by the author. A phone call to the issuers at the time indicated that the underwriters were satisfied by the support by the manganese off take commitments, such that drilling and international JORC compliance was not required.
PT. Golden Energy Mines Tbk IPO (coal) was issued in November 2011 presenting the independent consultant reports by PT. SMG consultants [ Kajian Teknis Indepeden Atas Aset Batubara, Girimulya-PT. Borneo Indobara Pernyataan Cadangan JORC, Block Kusan – PT.Borneo Indobara Pernyataan Cadangan JORC] . This report refers to the Joint Ore Reserves Committee (JORC) as its quality criteria and are typically 50-70 pages. However the reports presented in the IPO are sworn translation from the origin English version, and are not signed by SMG. Indeed there appears to be a mistake on page 500 relating to coal quality. A phone call to SMG consultants indicates that at the time of the IPO issuance, that SMG consultants had not seen the translated version and that apparently responsibility of such report lies between client and the consultant only. PT. Goldern Energy Mines Tbk IPO also provides "Kajian Teknis Independen Trisula Kencana Sakti by PT. Danmar Explorindo (28 Feb 2011) which refers to JORC as its quality criteria and is a sworn translation not signed by Danmar.
PT. Atlas Resources Tbk (coal) was issued in November 2011 with independent reports [Laporan Pakar] by 1) PT. Bretmindo [Ringkasan laporan sumberdaya dan cadangan sesuai kentuan JORC PT. Gorby Putra Utama, PT. Gorby Energy, PT. Banyan Koalindo Lestari, July 2011] & 2) [ Ringkasan laporan sumberdaya dan cadangan sesuai ketentuan JORC PT. Diva Kencana Borneo, Kutai Barat – Kal Tim- Sep 2011] that are both in bahasa Indonesia, signed by issuer and refers to the JORC code. 3) Minarco Mineconsult / PT. Runga Indonesia [ PT. Atlas Resources – PT.Berau Bara Energy, Statement of open cut coal resources and reserves as at 30 April 2011] & 4) [PT. Atlas Resources- PT. Diva Kencana Borneo, Statement of open cut coal resources and reserves as at 30 April 2011] each being a duel language summary plus more complete (50-60 page) reports plus signed competent persons statement.
PT. ABM Investama Tbk IPO (coal) was issued in December 2011 presenting independent reports by Minarco Mineconsult / PT. Runge Indonesia [ PT. Tunas Inti Abadi, Statement of open cut coal resources and reserves as at 1st Sep 2011, PT. Media Djaya Bersama Aceh Coal Project Statement of open cut coal resources and reserves at 30th June 2011] Such reports are presented in dual English & Indonesian, refer to JORC as the quality criteria, but are unsigned in the IPO version.
PT. Toba Bara Sejahtra Tbk (coal) was issued in July 2012 with independent reports by 1) Minarco Mineconsult / PT. Runge Indonesia [ PT. Adimitra Baratama Nusantara – Statement of open cut coal resources and reserves as at 31 Dec 2011], 2) PT. SMG Consultants – JORC Reserve statement pernyataan cadangan JORC February 2012] ,3) PT. SMG Consultants – JORC Resource statement pernyataan submber daya JORC Jan 2012] , 4) Marston – JORC coal resource and reserve estimate for PT. Trisensa Mineral Utama, March 2012]. The first 3 reports are in dual language, with the Marston report in bahasa Indonesia. None of the reports are signed.
In compliance with IPO listing rules, each of the IPO's have financial audit reports, wherein the economic aspects of the mines are further detailed. The Ernst & Young report in the Toba IPO states (p321) that "The Group estimates its ore reserves and mineral resources based on information compiled by appropriately qualified persons relating to the geological data on the size, depth and shape of the ore body, and requires complex geological judgments to interpret the data" "The determination of a JORC resource is itself an estimation process that involves varying degrees of uncertainty depending on the sub-classification…"
The forward to the JORC code 2004 edition sets out the purpose of such code to provide minimum standards, recommendations and guidelines for public reporting in Australia of exploration results, mineral resources and ore reserves. The main principals governing the operation and application of the JORC code are transparency, materiality and competence, wherein competence includes reference to "enforceable professional code of ethics". In practice most investors in the Indonesian mining sector require JORC standards in recognition of the quality of the supporting data and reporting, to provide reliable bases for investment. However it is yet to be tested in the courts upon the enforceability of an Australian code used in Indonesia.
Many of the IPO's provide only summary technical reports that refer to JORC compliance, without providing the more complete JORC report that gives the technical details to demonstrate JORC compliance.
Standar Nasional Indonesia SNI 13 [ Klasifikasi Sumberdaya Mineral dan Cadangan] and SNI 1086 [ ESDM Keputusan No. 1086 – Standardasi Kompetensi tenaka teknik khusus bidang geologi dan pertambangan] are presently not well accepted by issuers of IPO's. The underwriters and issuers are legally liable for the IPO wherein credibility of consultants using Indonesian standards is still being established.
The various styles, degree of content and quality bases of such technical reports is a reflection on the management of the IPO company, and thus also a reflection upon the character of the IDX. The mining companies statutory requirements of submitting feasibility reports to the Mines Department follows a specified list of contents, which may be a guide to ensure adequate content in the technical reports of IPO's. The summary reports may satisfy the issuance compliance and the underwriters, but the provision of the more complete JORC reports may better enable a broader public to determine for itself the technical nature of the projects. Having such reports in duel language may broaden the appeal to the international investor and reduce translation issues. Having technical reports signed by the authors provides assurance of the genuine nature of such independent reports and gives greater accountability towards the legal liability of the issuer and underwriter.
Suta emphasizes that disclosure is one of the core principals of good corporate governance.